Selfadvocatenet.ca Valentines Page 2023
What is Valentine's Day
Valentine's Day is an opportunity for people in Canada to tell somebody that they love them in a romantic way. It falls on February 14, the name day of two saints, St Valentine of Rome and St Valentine of Terni. In pre-Christian times, the middle of February was a time of pagan fertility festivals in Europe and allegedly the time when birds chose a mate.
Where Did Valentine's Day Come From?
Valentine's Day has its origins as an ancient agriculture and human fertility festival. From February 13 to 15, the Romans celebrated the feast of Lupercalia.
Lupercalia was a fertility festival in honor of Lupa, the wolf who was said to have suckled Romulus and Remus (whom founded the city of Rome in 753 B.C., according to legend). This festival was also dedicated to Faunus, the Roman god of agriculture.
This was the season to start sowing seeds and to hope for a fertile year of crops. The link between the Lupercalia, fertility, and romance is evident in the festivities that occurred during the celebrations. The Roman festival involved drunk young men running through the streets naked, women being smeared in animal blood, and unusual fertility rites. Ever heard the dating phrase, "being hit on"? In this case, men literally hit on women by whipping them with the hides of the animals they had just sacrificed.
Apparently, many women were willing participants, lining up for the festival, believing this would make them fertile. Young men also drew the names of women from a jar. The couple would lie together during the festival, in an effort to conceive.
When the Roman Empire became Christian, it evolved into a "Christianized" form of the festival of Lupercalia. The church honored St. Valentine—who was martyred at this time. However, much of the marriage and fertility traditions from the old ways persisted.
This above is from a website called almanac go to the link here
Selfadvocatenet.ca Valentines Day Message 2023
Learn English about Valentine's Day and Valentine's Day Vocabulary
Why Do We Celebrate Valentines Day?
Valentine's Day Facts and Statistics
Rhythm Play-Along Video: Valentine Rap [with Body Percussion]
Arthur's Valentine Read Aloud
Valentine's Day Crafts and Children's Activities
Valentine's Day Games Free Online
Free Valentine's Day Cards from I Can Read!
Valentine's Day Jigsaw Puzzle
Ladybug Cake and Cupcakes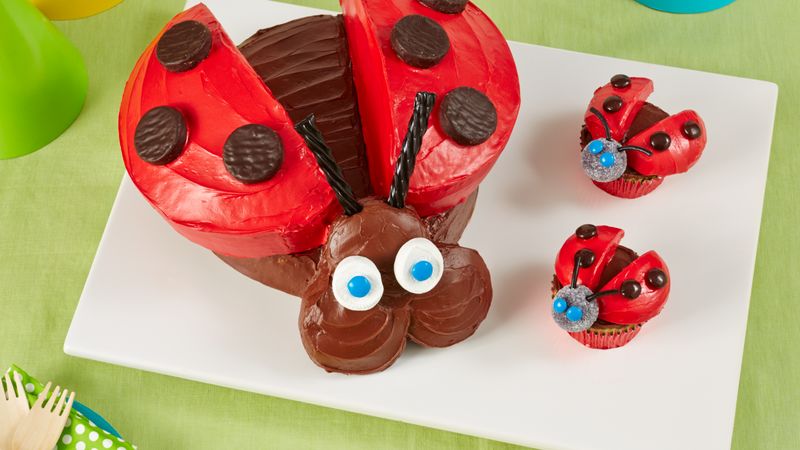 Prep 45 minTotal 4 hr 0 minServings 18
Ingredients
Steps
1

Heat oven to 350°F (325°F for dark or nonstick pans). Grease bottoms and sides of 2 (8-inch) round cake pans with shortening or cooking spray. Place paper baking cup in each of 24 regular-size muffin cups.

2

Make cake mixes as directed on box, using water, oil and eggs. Divide half of the batter between cake pans. Divide remaining batter evenly among muffin cups, filling about two-thirds full. Bake as directed on box for 8-inch rounds and cupcakes. Cool 10 minutes; remove from pans to cooling racks. Cool completely, about 1 hour.

3

Reserve 5 cupcakes; save remaining cupcakes for later use. For easier handling, refrigerate or freeze cake 30 minutes to 1 hour or until firm.

4

On serving plate or foil-covered tray, place 1 cake layer, rounded side down. Remove paper liners from 3 of the reserved cupcakes; position cupcakes against front of cake, slightly angled, for ladybug's head. Spread thin layer of chocolate frosting over bottom cake layer and cupcakes to seal in crumbs. Refrigerate or freeze 30 minutes to 1 hour.

5

In another medium bowl, mix vanilla frosting and red food color. Spread second cake layer with red frosting. Cut second layer in half crosswise; frost rounded top and cut sides. Refrigerate or freeze 30 minutes to 1 hour. Frost bottom cake layer and 3 cupcakes with chocolate frosting. Position red cake halves, rounded side up and slightly angled, on bottom layer to look like ladybug's wings. Place peppermint patties on red cake for spots.

6

Cut marshmallow crosswise in half; push 1 blue candy into each. Attach marshmallows to ladybug's head for eyes. Insert licorice twist pieces for antennae.

7

For baby ladybugs, cut off and reserve rounded tops of remaining 2 cupcakes. Spread flat cupcake tops with chocolate frosting. Spread cutoff tops with red frosting; cut each crosswise in half. Position red halves, rounded side up and slightly angled, on cupcakes to look like wings. Add brown candies to wings for spots. Flatten gumdrops; attach 1 gumdrop to front of each cupcake for head. Use frosting to attach blue miniature candies for eyes. Insert string licorice for antennae.
Nutrition
Serving Size: 1 Serving
Calories 540
Calories from Fat 210
Total Fat 23g 36%
Saturated Fat 6g 28%
Trans Fat 3g
Cholesterol 60mg 21%
Sodium 500mg 21%
Potassium 115mg 3%
Total Carbohydrate 79g 26%
Dietary Fiber 0g 0%
Sugars 5g
Protein 3g
Vitamin A 0%
Vitamin C 0%
Calcium 10%
Iron 8%
Exchanges:
1 Starch; 0 Fruit; 4 1/2 Other Carbohydrate; 0 Skim Milk; 0 Low-Fat Milk; 0 Milk; 0 Vegetable; 0 Very Lean Meat; 0 Lean Meat; 0 High-Fat Meat; 4 1/2 Fat;
*Percent Daily Values are based on a 2,000 calorie diet.
This Recipe is on website called Betty Crocker go to the link here
Carrot-Stuffed Bison Tenderloin
Materials
Carrot Stuffed Bison Tenderloin
2

whole

carrots

peeled

2

tablespoons

Pritikin® All-Purpose Seasoning*

2

tablespoons

salt free lemon pepper

2

tablespoons

ground coriander

2

pounds

grass-fed bison tenderloin

cleaned, ends removed
Blueberry Balsamic Reduction
2

cups

blueberries

1

cup

balsamic vinegar
Instructions
Carrot Stuffed Bison Tenderloin
Place a roasting pan in the oven at 400 degrees to preheat.

Blanche carrots: Put them, whole, into a pot of boiling water for 5 minutes, then immediately throw them into a bowl of ice water. Remove them after 5 minutes, and pat them dry with a paper towel.

In a small bowl, combine all-purpose seasoning, lemon pepper seasoning, and coriander. Rub mixture all over tenderloin.

Insert a boning knife, lengthwise, into the center of tenderloin. Then turn, making a hole. Repeat from the other end.

Insert the whole carrots into the center incisions, making sure that the carrots meet in the center.

Lower oven heat to 250 degrees. Roast tenderloin until medium-rare (our Pritikin chefs' recommendation for the best flavor), which is until a meat thermometer reads 135 degrees (usually about 1 hour). Allow the tenderloin to rest on the carving board for 15 minutes before slicing.
Blueberry Balsamic Reduction
While tenderloin is finishing up in the oven, combine In a sauce pan on the stove the blueberries and balsamic vinegar. Bring to a boil.

Reduce flame and let simmer for 10 minutes. Cool and blend in a food processor. Serve with bison.
Notes
* You can purchase Pritikin's salt-free All-Purpose Seasoning online at the Pritikin Store. Or make your own all-purpose seasoning by blending together your favourite herbs and spices such as paprika, garlic powder, onion powder, dried oregano, and dried basil.
This on website called Pritikin Luxury wellness retreat site go to the link here
The Valentine's Day Survival Guide
David Bowie – Valentine's Day
Funny Valentine's Day Quotes & Messages